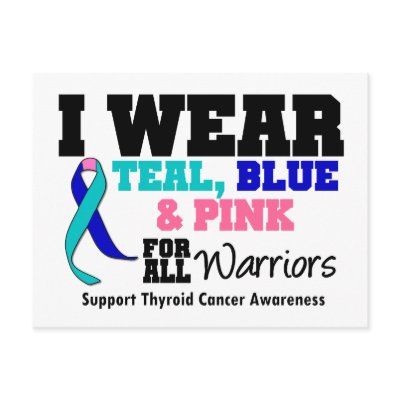 September is Thyroid Cancer Awareness month.
It seems only fitting that this is when I find out pretty stinkin' definitively that I am
cancer free
.
Last week, I found out that my scan had come back clear. No sign of cancer. And I definitley let out a sigh of relief. However, the lab had messed up my blood test and because there is a small chance that the scan won't pick up small amounts of cancer cells, it is important to have both pieces of information. After my last set of results (where I had a good blood test, but a strange neck ultrasound), I was hesitant to really celebrate until I had all of my test results.
You know what? It's time to celebrate.
Clean scan. Excellent blood test results. I'm pretty sure that means I can say I am cancer free.
That doesn't sound half bad. Not bad at all.
I basically spent all of July and August waiting for test results. After my doctor's office called with my blood test results yesterday afternoon at 4, I felt like I could finally breathe again. Phil and I had been putting off our plans for the next couple of months in case I had to have more tests. And I don't!! I could seriously jump for joy.
The thing is, if my cancer hadn't been found early, this may not be the story. I am lucky that I had some symptoms and a smart and thorough medical professional who found my nodules. So CHECK YOUR NECK!! It is really easy and painless. Click
HERE
for instruction on how to do it yourself. If you don't want to do a neck check, then ask your dentist and/or healthcare provider to do a neck check (including your thyroid) at your next visit. The THYCA has attributed early detection to increased neck checks performed by dentists. They are supposed to do it, so don't hesitate to ask.
My journey with Thyroid Cancer will probably never be over. But now hopefully I will forever stay in this monitoring phase and not need treatment again. If my cancer ever does come back, I need to put on my big girl pants again, stand up and kick ass again. Until that day, I will celebrate that, for now, I am cancer free.